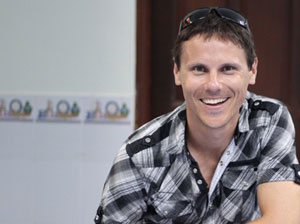 Pete Kvist
Author, Speaker, Educator, Coach.
Having worked with several hundred clients over more than a decade in the web industry, it's no wonder Pete Kvist is a highly sought after consultant, speaker and presenter. With the experience of presenting to more than 100,000 people from over 100 countries around the world through his different endeavours, Pete Kvist has most certainly left his mark.
"Why Most Websites Suck! How to Avoid Costly Mistakes and Discover the Latest Strategies to Boost Profits from Your Website" is Pete Kvist's much anticipated first book. Written with the knowledge he has obtained working in the industry for well over a decade, the book contains invaluable answers to:
The most commonly asked questions by clients
The questions people don't even know to ask, but absolutely must know
Pete has worked with individuals looking to start a business all the way to large companies like Virgin Mobile, NRMA and Ford. His experience is vast and broad. He has appeared on television both locally and globally, from major Australian networks like Channels 7, 9 and 10 all the way through to global networks suck as the Disney Channel and BBC Worldwide.

With a truly unique engaging, entertaining and humourous personality, there's no wonder he is well respected and admired by peers and clients alike. Feedback from his presentations have set standards in every industry in which he has appeared.
Today, Pete lives in the Sydney, Australia beach side suburb of Cronulla with his beautiful wife Liza. Although Pete has a list of amazing clients, he and his wife also have a passion for skiing and travel. Proof that Pete doesn't just "talk the talk", he manages to spend several months most years traveling with his wife (mostly to ski in locations such as Colorado and Canada), whilst his "virtual" team are able to deal with the day to day running of the business.
You can find out more about Pete Kvist, how you can work with him or discover more about booking him for a speaking engagement by going to PeteKvist.com or clicking on the banner at the top of this page.